Last summer a show called Mystical Magic of the Endangered (or something like that) came to town. We went and saw the magic show (twice) but that wasn't enough. They had an empty store filled with cages of tigers and other similarly exotic animals. They were allowing people to play with the tiger cubs for 8 minutes for the price of $25 per two people. I quickly did the math and figured that $50 was just too much to spend for 8 minutes of fun. So we didn't play with the tigers. The kids were very disappointed, to say the least. After the show was gone, I felt bad. How often do you get to pet a tiger? Not very often around here. I told the kids that when Joe Exotic came back to town they could play with the tigers. Well he's back. We went today and the kids played with a tiger cub and a lion cub. They are SO cute. We only had to pay $30 so apparently they give a volume discount. We'll go back and watch the show-we had swimming today so we couldn't stay. They'll be in town for 3 more days so we have time. Here are a few pictures of today's fun:
Jake and the tiger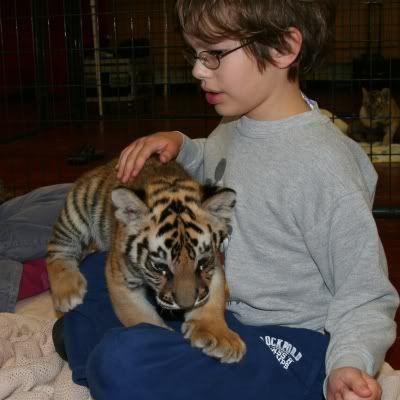 Jenny and Sammy and the tiger. Jenny was looking at the little cub in the next cage so she's all turned around.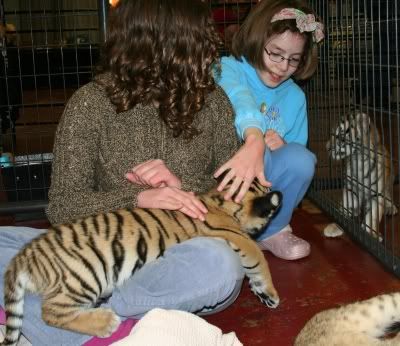 Jenny and Sammy and the tiger again. I wanted to post a picture of Jenny where you could see her face.
The little lion cub.