I've never gotten a tag quite like this one. Normally I don't post tags because by the time I get tagged, everyone I know has already gotten the same tag. So anyway this one was so different I had to do it. I was tagged by
Heather
and here are the particulars:
The Rules:
1. Go to your Picture Folder on your computer or wherever you store your pictures.
2. Go to the 6th Folder, then pick the 6th picture in that folder.
3. Post that picture on your blog and the story that goes along with the picture.
4. Tag 6 other people that you know or don't know to do the same thing and leave a comment on their blog or an e-mail letting them know you chose them.
So here is my pic-it was from November 2, 2003 and was when we went hiking in the fall. It was the warmest fall hiking trip we've ever taken, which is why we all had short sleeves.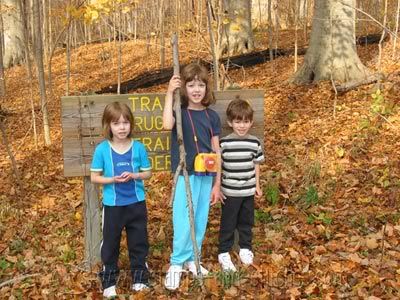 Here are the people I'm going to torture (just kidding!)
1.
Rachel
2.
Mel
3.
Louise
4.
Heather
5.
Jen
6.
Jennifer