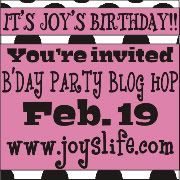 I wanted to thank everyone for visiting and commenting during the Birthday Blog Hop so far. Today is the last day to leave a comment to enter the drawing! I did read each and every comment and wanted to clear up or comment on a couple of things:
I don't live in Canada. Sometimes I wouldn't mind it-because they are so much more allergy aware up there. So since I'm in the US, I buy my Canadian candy from Peanut Free Planet (link is in the sidebar in my favorite sites section). If anyone you know is allergic to nuts, tell them about this site. They have hundreds of items that are safe for nut allergic people.
Recoloring in Photoshop (or Photoshop elements) is pretty easy. I will try to post a quick how-to soon.
The best place to learn about using Lettering Delights and other companies' files in Make-the-Cut is at the
Under a Cherry Tree blog
. Jin does amazing work and has some great tutorials on her blog, including how to use a graphic (instead of an svg) and trace it to use in MTC.
I didn't make or decorate the bags. I saw them at Target and couldn't believe how perfectly they matched the colors I had chosen. So I decided to use them as props. But it would be a good idea, actually, to get plain bags and make a simple 3d cutout for them...
I think that's all so far. If you haven't signed up for the blog candy yet, just
click here
and leave a comment. thanks again!