I got some Justrite stamper stuff in the mail today. I got the wooden circle, a set of borders and centers, and the small letter set. Let me tell you, when they say small they mean teeny weeny small. It took me all of 30 seconds to lose one of the things and probably 30 minutes to find it. It was a miracle I found it at all. They are about 1mm x 2 mm (maybe a tiny bit bigger) and gray, so they blend nicely into any and all shadows. Plus I have this hi-low carpet in my scrap room and stuff really hides in that. So anyway by the time I found it I was completely out of the mood but I forged ahead. I made this simple card using a sketch from one of the Joy of Cardmaking magazines. After I had my patterned paper thing on the front all cut, torn and sewed, I noticed I had included the Stampin' Up logo on the corner. ARGH! So I got out my Close to Cocoa ink (which matches this paper) and my Tim Holtz foam inky thingy, and inked up the edges. I thought it covered it up rather nicely. The picture came out a little funky. My DSLR is acting up on me so I decided to try my old G2. Poor thing-it barely works anymore.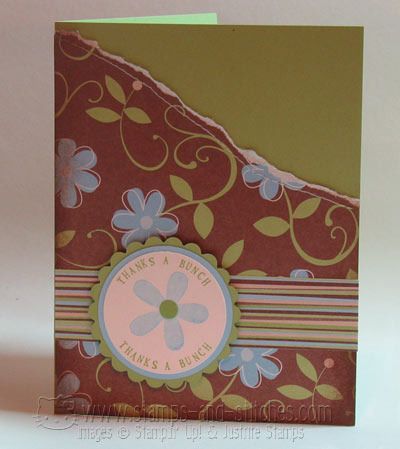 materials list:
Cardstock: Stampin' Up Certainly Celery, Bashful Blue and Whisper White
Patterned Paper: Stampin' Up Petal Patch Designer Series paper
Inks: Stampin' Up (Close to Cocoa and Certainly Celery classic ink and Bashful Blue craft ink)
1-3/4" circle punch
1/4" circle punch
Nestabilities
Sewing machine
Tim Holtz foam ink spreader thing
Stampin' Dimensionals
Letter stamps: Justrite Stamps
flower stamp from the Stampin' Up Big Pieces set
edit-now that I look at it more closely, I think I put the S on upside down-on both places!