I'm sorry I haven't posted in a while. The fact is, I haven't done anything. Well I did paint this chair and it was the project I needed to finish so that I could start making cards and layouts again. I bought this chair and a desk that matched it at a yard sale a long time ago. I paid a whole five dollars for both-great deal right? Well the desk (which was my old sewing desk) was not working for sewing anymore but I thought I would keep the chair since it has a fairly small footprint. I have the computer chair for my sewing desk but wanted a regular chair for stamping. Mainly because I take pictures of my cards in there and I can't hook my
gorillapod
on the computer chair. So I decided to take this ugly green chair and make it over.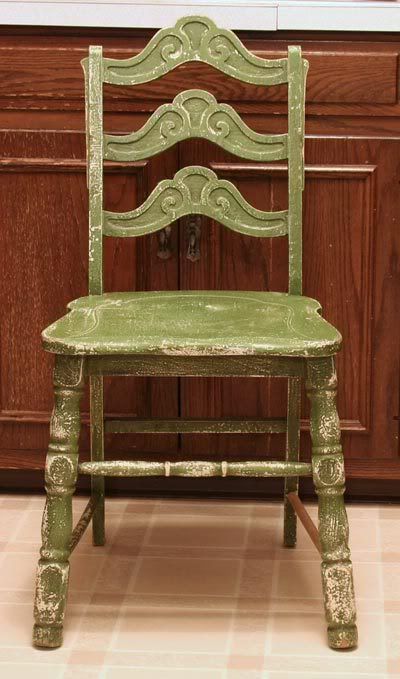 I sanded it *a little* (didn't want to release possible lead dust in the air right? That was my excuse anyway) and repainted it. I think it might have had 5 or 6 coats of paint on it already so the finish was a bit...bumpy. And you could see old paint drips in some places. But I'm not entering it at the county fair or anything and I didn't want to kill myself making it look perfect so I just roughed up the old paint and painted right over it. We had to do a little bit of repair work (note the plain dowel-the old one was missing) but otherwise I did pretty much nothing. So here's the new one-painted green and pink to match my other stuff. The original plan was to paint green in those swirly decorative parts but I was lucky to paint a straight line much less a swirly one so I thought it would save my sanity just to leave it all pink.
I'll probably make a chair pad for it because it's actually not very comfortable.