My scrap room is a giant mess so I haven't been able to do much in there. But I needed to make something so I just swept everything aside and made a card. I pretty much copied it from
this card
not even realizing I used almost the same colors. oops. I got the colors from my ribbon (and she got her ribbon from the colors) so maybe our ribbon is from the same place. Anyway. I got the sketch from the CTMH card confidence program and the layering of the flowers from the card I linked above. And the colors too, from the looks of it. I had a lot of trouble cutting these out (I have carpal tunnel syndrome plus I hurt my hand today). I tried my new Fiskars fingertip knife but found that scissors were easier. I think the fingertip knife would be great for something with less cutting.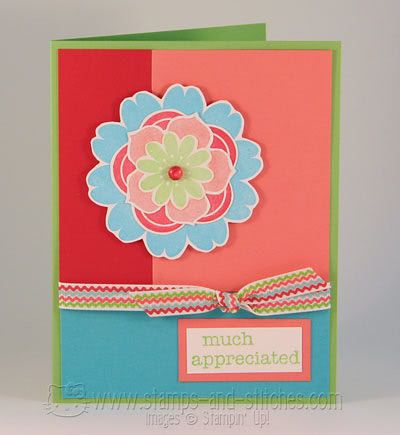 Stamps:
Petal Pizzazz from Stampin' Up (from the new catalog-I LOVE this set so much)
Much Appreciated from Stampin' Up
All cardstock and ink from Stampin' UP (Real Red, Tempting Turquoise, Green Galore and Cameo Coral)
Dew Drop for the flower center-I bought this from
A Walk Down Memory Lane
.
Ribbon from American Crafts